Why does our beef taste so good?
It's all in the grass… or rather the diverse nutrients in the grass.
As you may already know from reading about us, our cows graze on a variety of natural, chemical-free grasslands.
Our pastures contain a diverse range of plant species… which means that our cows get all the nutrients they need for good health.
And it's these diverse grasses and forbes, as well as the way the cows are cared for that give our grass fed beef its superb taste.
But don't just take our word for it – here's what some of our customers think…
What flavour and quality…
"Just awesome, we got our first lot of meat through yesterday and it is spectacular. What flavour and quality"
Annie, Brisbane
So hard to compare…
"The meat you sent us, is the best thing we have had in a very long time.  It is so hard to compare with the rubbish we have been buying"
Michael, Canberra
Never had steak that tender before…
"We're absolutely loving our meat order, thank you. The t-bone is definitely our fave so far – we've never had steak that tender before and they were massive!"
Lisa, Narrabri NSW
So tender and tasty…
"Thankyou Derek, the meat is amazing. So tender and tasty. It is a real pleasure to eat the various cuts. My favourite is any of the juicy steaks fried in a hot pan."
Jonathan, Tamworth, NSW
Sausages yum, everything yum!
"We're loving our meat! And the recipe for the beef rendang using the silverside, brilliant! We all loved it, even the 5 year old. Sausages yum, everything yum!"
Sarah, Sydney
The best sausages…
"I tried the sausages tonight they were the best I've tasted in a very long time. I will be buying them again thank you very much"
Mark, Tamworth NSW
Delicious…
"We had BBQ blade steak on the BBQ grill and the kids had sausages for dinner, both delicious. It's the first time in a long time that I have just had salt with my steak and nothing else, so a very good sign. The flavour was great."
Trent, Yass NSW
OMG, this is Divine…
"I made steak for my hubby the other night and he said 'OMG hun this is divine'"
Megan, Canberra
A pleasure to eat…
"Well, we have just eaten two delicious T-bone steaks for dinner and they were melt in your mouth, with great flavour. A pleasure to eat."
Lindi and Chris, Quirindi NSW
10/10…
"We are definitely enjoying our hamper. For quality, packaging and service – 10/10. It is the best beef we have ever had."
Lynn, Penrith NSW
Tender and so tasty!!!…
"I purchased from you yesterday at the Taste festival in the park. I took your advice and cooked the scotch fillet…. It was amazing! It was tender and so tasty!!!"
Kristine, Tamworth NSW
So different…
"We have had a couple of meals with the beef and it is so tasty. The flavour of this meat is so different to the meat that is purchased in the Butcher shops there is no comparison at all. Thanking you kindly "
Adele, Wallabadah NSW
We LOVE the sausages…
"We LOVE the sausages, we have had them for dinner 3 times this week :)"
Shayne, Young NSW (paleo sausages)
Best I've had in ages…
"Excellent snags and steak, well done guys! Best I've had in ages."
Ben, Brisbane
And this one makes us particularly proud…
Passionate about your animals…
"You are really passionate about your animals, it's lovely to read your kind words."
Melissa, Sydney
Plus you can see plenty of other happy customers' comments at the bottom of each page…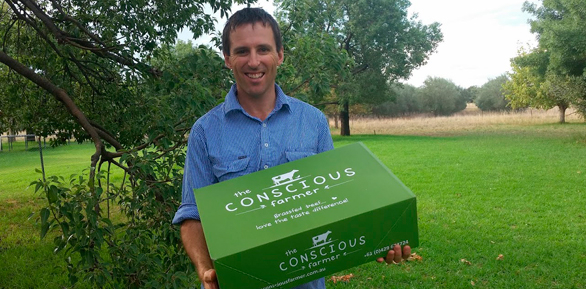 What are you waiting for?
Our beef hampers give you lots of ways to try our beautiful, nourishing grass fed beef.
Why not check out our grass fed beef hamper choices. Whether you love to cook on the BBQ or you like to get the best nourishment from a slow cooked meal – we're sure we'll have a hamper to suit your family and freezer size!
We know you'll love the taste difference.