Simple, Tasty, Curried Sausages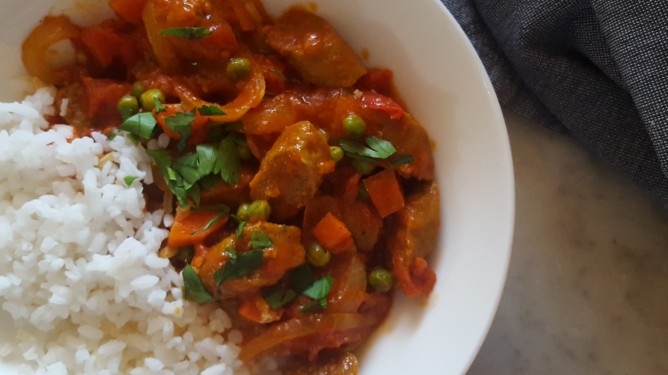 In theme with our new Mince and Sausage Hamper, I thought I'd share with you my 'Wednesday Food' Curried Sausages recipe.  What's Wednesday food you may ask?  I heard something said recently – that people want slow food for the weekends and Wednesday food during the week (meaning quick and simple preparation).  Well, here's a Wednesday meal for you!  Nothing fancy pants – just a quick, simple, tasty meal. It's not only easy; it's great because it's a one pot recipe – minimal clean up!
Ingredients
1 x pack Conscious Farmer Sausages
1 carrot – diced
1 brown onion – diced
1 tablespoon curry powder (I use the traditional English style curry powder for this recipe)
¾-1 cup beef stock
1 tin diced tomatoes
2 tablespoons tomato paste
½ cup green peas
Sea salt and black pepper
Chopped fresh flat leaf parsley and greek yoghurt to serve.
Method
Place sausages in a large fry pan with a few inches of water in it.  Bring to a simmer and cook until the sausages are cooked through.  Remove from the water (discard water).  Remove the sausage skins (just nick along the side of the sausage and the skin should peel off easily).  Once skinned, cut the sausage into small sections (on the diagonal looks best).
Add some olive oil to the pan and place the carrot and onion in the pan and cook until soft. Add the curry powder to the pan and stir briefly until fragrant.  Return the sausages to the pan, along with the beef stock, tinned tomatoes and tomato paste. Bring to a simmer for 15 minutes.
Add the peas and simmer until the peas are cooked through.  Season with sea salt and cracked black pepper.
Serve with a dollop of natural greek yoghurt on top, white rice and some chopped fresh parsley.
You can also add some diced celery along with the carrot and onion.
Enjoy with family and friends. 🙂 Kirrily x