Farm Forage Day – You're Invited!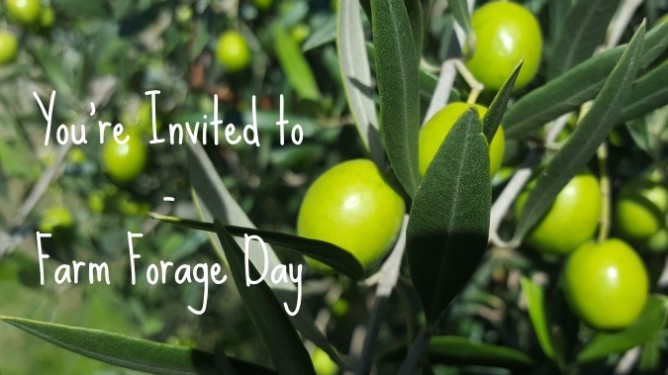 You're invited to visit our farm, pick your own olives, have morning or afternoon tea on the lawns, learn about our grass fed beef and chat with us, the farmers – Derek and Kirrily.
Sunday 7th May 2017
—
What's Happening on Farm Forage Day?
Pick Your Own Olives
We have Manzanillo variety olives that are suitable for picking and pickling.
Take home the olives you pick.
Bring your own bucket and/or bags.
Pickling recipe available.
$10 per family
Morning and Afternoon Tea
Includes beautiful home cooked cakes & slices, tea, coffee & herbal teas, and cool jugs of lemon water.
$12 per person.
Enjoy the Farm
Enjoy being among the olives trees, experience the farm where we graze our cows for our 100% grass fed and finished, chemical free beef.
Go for a farm tour with Derek.
Maybe see wildlife of kangaroos, wallabies and koalas.
Olive Oil to Buy
Olive oil from the trees on our farm will be available – $16 per 500ml bottle
Our Grass Fed Beef!
Learn about how we raise our 100% grass fed beef free of any chemicals – raised on diverse pastures. Learn about regenerative farming, why grass fed beef is a healthy choice, how to cook for best health and more.
100% Grass Fed Beef to Purchase
Take home some of our chemical free, pasture raised beef, No GMO's, antibiotics or hormones.
Price varies with cut. Bring your esky!
—
Sunday 7th May 2017, Open from 9am to 5pm.
Please RSVP – Kirrily 0417 894 474 or [email protected]
(please advise any dietary requirements)
We accept cash, Visa, Mastercard and Amex.
Children welcome.
—
Our Farm Forage Day will be part of the Farm Gate Trail of Taste Tamworth.
Accommodation suggestions nearby: