Beef San Choi Bao – Embrace the Messy Fingers!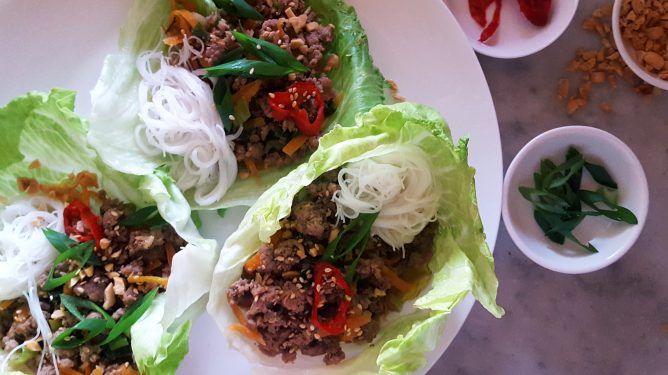 If there's anything that mixes things up for dinner for me, it's eating with my fingers! It's relaxed, a bit fun and can be nourishing and healthful too – kebabs, wraps, and last night for us – San Choi Bao. While this creates fun for kids, it's a welcome change for us adults too.  Last night I used (not surprisingly), beef as the base for my San Choi Bao – it's lovely and flavourful with the soy, ginger and garnishes. The iceberg lettuce gives a fabulous crunch and wraps up nicely to hold everything in.
So give it a go, (it's very quick and simple to cook), wrap it up, delve in with your hands, lean over your plate and enjoy the beef juices dripping out the bottom as you delve in and embrace just a little bit of messiness!
There's lots of other ways to bring some fun into dinner.  Use chopsticks, move outside with the weather warming up or put all the sides, meal components or garnishes in the centre of the table so the family can serve themselves.  They can get just what they want and it has a lovely communal feel as everyone jostles to have things passed around – I especially love to do this with guests.
Ingredients
750g grass fed beef mince (one of our packs)
Olive oil (or sesame oil for a more authentic flavour)
2 cloves garlic, crushed
1 tablespoon ginger, minced
3 tablespoon tamari or soy sauce
3 shallots, sliced finely on the angle
1 medium carrot, grated
Red chili – if desired
1 iceberg lettuce, divided into individual leaves
1 tablespoon sesame seeds
Vermicelli noodles
Small handful peanuts – chopped
Method
Add the oil to a medium/high heated pan.  Add beef mince and brown.  Add the garlic and ginger to the pan and stir until the garlic is cooked.  Add the carrot, chili (if desired) and shallots, but retain some of the green slices of shallot for garnish.  Cook until carrot and shallots have softened.
Bring a saucepan of water to the boil. Add some vermicelli noodles to the pot and cook for 2 minutes. Drain.
To assemble the San Choi Bao – arrange the lettuce leaves on a plate and spoon some of the mince mix in each one.  Add a small amount of vermicelli noodles to each lettuce cup.  Top with green shallot slices, chopped peanuts and sesame seeds.
Wrap the lettuce around its contents as you prepare to eat.
If you'd like some grass fed beef mince for this and other meals – check out our range of mixed cut, nourishing hampers and find the one that's suited to your home and family.
Kirrily 🙂